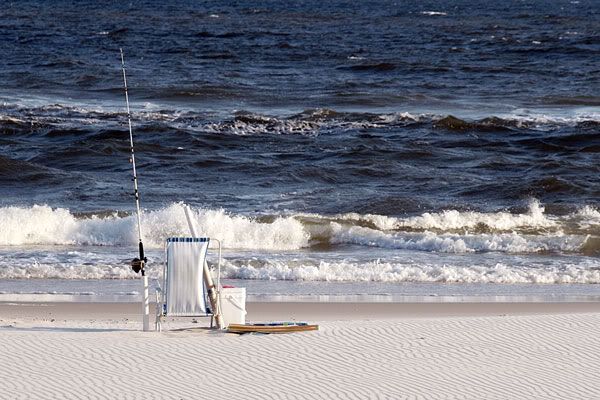 Besides patience, surf fishing requires a few more things!
License- All beaches in South Carolina are public and can be fished. All that is required is a valid South Carolina saltwater fishing license. This hotline is available 7 days a week 24 hrs a day 1-866-714-3611.
Gear- While fishing from the surf, you can use multiple rod and reel combinations. The most beneficial to have is a surf rod over 8ft so it can be properly cast out into the surf line or beyond. Don't forget the sand spikes to hold your rods!
Tackle- The most commonly used tackle is a Carolina
rig. This is a ½ to a 1 ounce egg sinker attached to the main line. You will then tie a swivel on; this will allow the egg sinker to stay on the main line and also a place to tie your leader to. Your leader should be either monofilament or fluorocarbon above 20lbs and up to as large as you feel comfortable. Anything from 16-36 inches will work depending on current and wave action. You will tie the hook to the loose end of the leader. Your hook size should coincide with the species you're targeting.
Location-Since the entire beach below the high tide line is public, picking the right spot will prove to be the most important decision you have to make. We recommend either end of the island along the inlets. This is where water will have the most movement with the tides. This provides an environment where baitfish will be pulled out of the creeks or ocean, and where you will have the opportunity to catch more game fish.
Bait- The recommended bait for surf fishing will be cut mullet or cut menhaden. These provide the scent needed to attract fish in the surf. However, you can't go wrong with live or artificial baits if that's what the fish are biting.
Species targeted- Many different species of fish reside off our coastal beaches. Some of the more common catches will include shark, redfish and whiting however you can't rule out flounder, bluefish,  black drum and sea trout.