The flounder bite has been pretty strong this summer. I have had good luck fishing in the inlets around Isle of Palms and Sullivan's island. I like to fish where structure and sandy bottom meet that has a good current flow flowing over it. With flounder being ambush predators I have found these are the areas that they tend to congregate. You can buy pre made flounder rigs in the store that have a weight and a float attached to the rig to drift over sandy and muddy bottoms but my personal preference is to tie a 20lb leader directly to my main line via a uni to uni knot. From there I have my hook tied to the leader. For weight I like to use big split shots. You will need enough weight to stay on the bottom without the current dragging your bait along. The advantage of using split shot is allowing me to adjust the weight as current increases or decreases and also allows you to adjust the weights on the leader for more or less leader length. There is a bit of a technique for finding the flounder bit and setting the hook. I prefer a small j-hook and once I feel the flounder pick up the bait (mudminnows), I give him about a 10 second time period to let him eat the bait in its entirety. From here you would set the hook like a bass fisherman or as we like to call it "bill dance the fish". Feeling the bite is key to successful flounder fishing. It feels like you just got snagged on the bottom and really is something that takes some practice to be good at. Get out there and catch some dinner!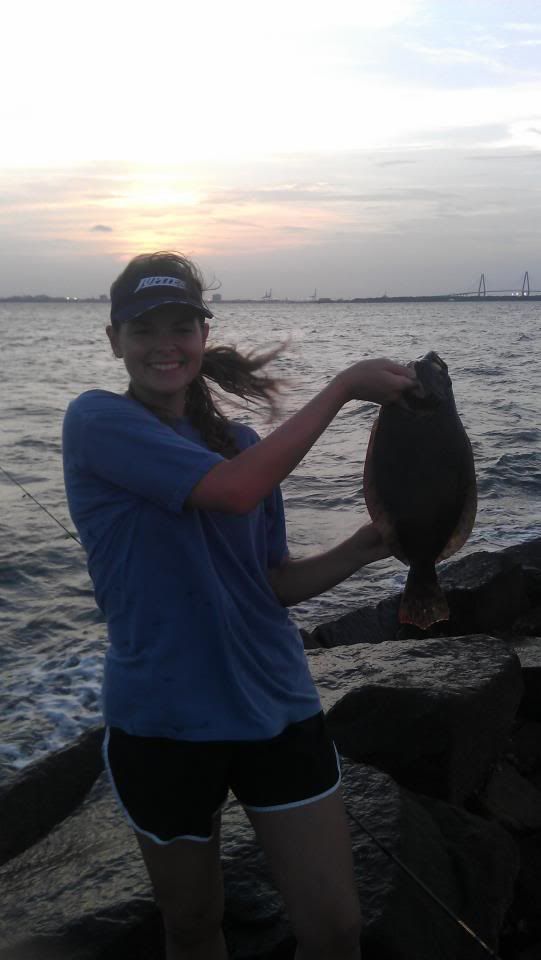 First off congratulations to the Micabe Fishing team for their second megadock victory in ten years! Tons of preparation goes into fishing these billfish tournaments with a lot of money on the line. I was fortunate enough to get invited on the local Jupiter Dealers 2012 30ft Jupiter. What a great boat that rode fantastic even though it was the smallest boat to fish this tournament. On Thursday we caught a few dolphins and had a sailfish in the spread but that was about it for the first day. We decided to fish our second day on Friday which meant we were going to be fishing back to back. The weather Friday was a bit worse than the calm seas we experienced the day before. We pushed on out 55 miles to 350ft where most of the billfish bites had been going on. After about two hours of nothing I was letting a bait back into the spread when an estimated 250-300 lb Blue Marlin bust out on the bait leaving a huge hole in the water. We were fishing with 25-30lb tackle and the fish had taken out about 500 yards of the 600 we had available on the reel so we were about one good run from being spooled. All this happened in less than 30 seconds so the fish was just burning line off the reel. We gained a good bit of line back and settled in for the long fight. As we are slowly gaining line the fish sounds even deeper taking more line with it. It was apparent we were going to be there a while. After an hour of up and down battle I was fearful of the light sailfish leader breaking and low and behold it did about 10 mins later. We caught a few more dolphin but didnt see any more billfish activity after that. It was a nice blue marlin no record setter but for a small boat fishing alongside 50-80ft sport fishing vessels it was the one that got away…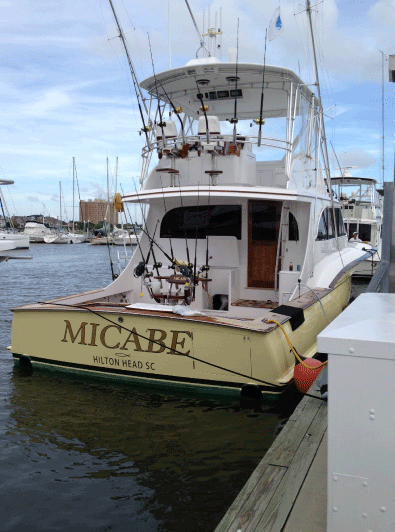 Island Realty team member sight fishing for redfish on a tidal flat! Way to go, Eric!
The Isle of Palms fishing pier is a landmark of the front beach.  It is a private pier for use by Sea Cabin and Oceanside owners and guest.  If you are lucky enough to be staying at one of these units, I highly suggest bringing your fishing equipment.  Just today I had time to walk down and check out who is catching what. I had a good chat with a gentleman that had caught a nice sized black drum, 3 trout, a little flounder, and many other species (whiting, little red drum, and spot).  He mentioned he was having the best luck at high tide using cut shrimp and live mud minnows on a Carolina rig. In order to fish the pier it is required by South Carolina law to have a valid South Carolina saltwater fishing license. This hotline is available 7 days a week, 24 hrs a day: 1-866-714-3611.
<>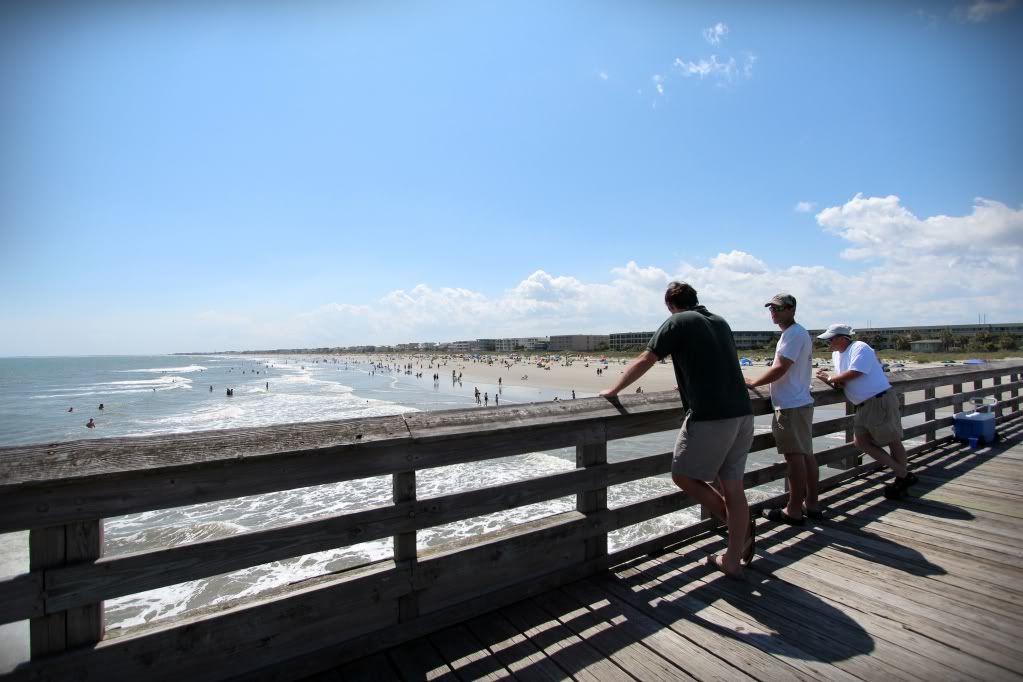 For the trout's sake, thank goodness we had a very mild winter. The previous two hard winters have really taken a toll on the sea trout population and it is good to finally see them bouncing back. It takes approximately two years for a dink trout to mature into a breeder trout. That means if we have another mild winter it will definitely be "trout city" next summer, even better than the bite is currently. Some of the charter fishermen who target these fish are seeing great catches, some of which are upwards of 50 trout a day when the bit is hot. They have been catching the trout on both artificial and live bait. The mudminnow is the preferred live bait at the time, but as the menhaden start to become more abundant, I would suggest switching over to use the smaller ones as bait. The menhaden are "gator trout candy". Don't be scared to throw a jig head with an artificial grub tail as well. This is perfect to use when casting around to find the fish.  Once you have caught one or two trout fish, you have found good numbers and I would recommend either using live bait or just rapidly casting the artificial bait in the same area. Trout tend to "school up" or congregate in the same area, so once you find one, you more than likely have found a group of these fish. Good luck out there and report your catches to the Island Realty Facebook page!
It has been a busy week on the offshore grounds. There are a few reports for 40+ dolphin being caught straight out of Charleston about 50 miles. There are still a few reports of some nice wahoo and blackfin being brought to the docks as well. The next 2-3 weeks should be on fire as long as the weather holds and some people can make the trek.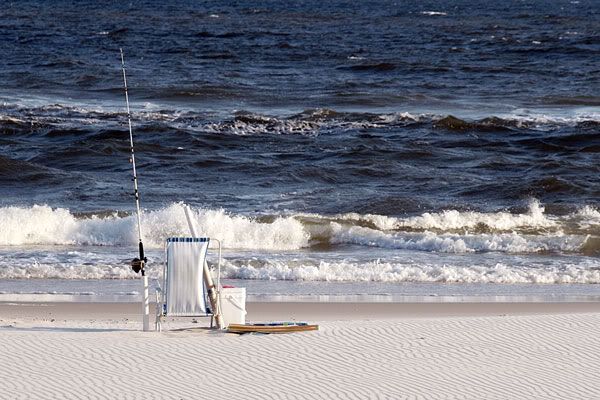 Besides patience, surf fishing requires a few more things!
License- All beaches in South Carolina are public and can be fished. All that is required is a valid South Carolina saltwater fishing license. This hotline is available 7 days a week 24 hrs a day 1-866-714-3611.
Gear- While fishing from the surf, you can use multiple rod and reel combinations. The most beneficial to have is a surf rod over 8ft so it can be properly cast out into the surf line or beyond. Don't forget the sand spikes to hold your rods!
Tackle- The most commonly used tackle is a Carolina
rig. This is a ½ to a 1 ounce egg sinker attached to the main line. You will then tie a swivel on; this will allow the egg sinker to stay on the main line and also a place to tie your leader to. Your leader should be either monofilament or fluorocarbon above 20lbs and up to as large as you feel comfortable. Anything from 16-36 inches will work depending on current and wave action. You will tie the hook to the loose end of the leader. Your hook size should coincide with the species you're targeting.
Location-Since the entire beach below the high tide line is public, picking the right spot will prove to be the most important decision you have to make. We recommend either end of the island along the inlets. This is where water will have the most movement with the tides. This provides an environment where baitfish will be pulled out of the creeks or ocean, and where you will have the opportunity to catch more game fish.
Bait- The recommended bait for surf fishing will be cut mullet or cut menhaden. These provide the scent needed to attract fish in the surf. However, you can't go wrong with live or artificial baits if that's what the fish are biting.
Species targeted- Many different species of fish reside off our coastal beaches. Some of the more common catches will include shark, redfish and whiting however you can't rule out flounder, bluefish,  black drum and sea trout.
It's spring time and the offshore action is starting to heat up. During this time of year you can expect to see meat on the docks. Numerous boats are loading up on dolphin, Wahoo, and black fin tuna. A boat came to the docks last week with over 20 dolphins and a few black fins as well. The Wahoo fishing has slowed down a bit from the fury it was two weeks ago with a few boats catching over double digit Wahoo. It is also not uncommon to see a billfish this time of year. The sailfish will slowly start to migrate up the coast and if this summer is anything like last summer, we can expect to see a large population of White marlin off our coastlines.  With the beautiful weather slated for this weekend, we should expect to see some good reports.
Capt. Ben Floyd's Amazing Fish Video

The fishing and the weather on Isle of Palms have been awesome so far this winter! This time last year everybody I talked to was complaining about the cold. Myself included! I thought I could escape the cold winter down in the Florida keys but after 7 windy days of highs in the 50's and lows in the 40's I quickly retreated home to ride out the winter. This year has been a different story. So far the winter of 2011/12 has been perfect. The cold weather hasn't really gotten here yet and with lots of days in December, January, and February in the upper 60's and 70's the fish are warm and really hungry.
Redfish, Seatrout, and Sheepshead are our main targets this time of year. Although the Seatrout took a big hit last winter there are still a few around especially when the conditions are right (and they have been!). Redfish are everywhere in the creeks and estuaries just minutes from Isle of Palms and the bite has been hot! Sheepshead fishing has also been really fun lately. We target them inshore around docks and sunken debris as well as on the nearshore reefs. I fished for them 2 or 3 times a week in December and January and landed several from 2 to 9 pounds on every trip!
Warm temperatures have made the fishing on our nearshore reef really fun. Calm seas, light winds and warm temperatures are the fishing conditions that I dream about so actually catching fish is just a bonus. Sheepshead are our primary target out there this time of year. Light tackle rods and reels are the choice for most captains and a typical rig consists of 15 lb test line with a carolina rig with fiddler crabs for bait. Sheepshead in the 2 to 6 lb range are common with the occasional 8 or 9 pounder mixed in.
The light winds and the warm weather have got the inshore fish biting like crazy as well. Redfish are super abundant this time of year and eager to bite a hook on the flats and around docks. They are cooperating nicely whether we are fishing with bait, artificial lures or flyfishing.
Typical catches range from 10 to over 50 fish on a 4 hour charter with fish in the 3 to 12 pound range.
Please remember, we can accomodate anglers with all skill levels and can customize your charter to make your day on the water with us one you will smile about.

Tight lines,
Capt Ben Floyd
843-670-3123
Charlestonfishfinder.com
Charlestonfishfinder channel on You Tube
"December is a great month for fishing in the lowcountry. Winter is just beginning to settle in and we still have some of those seventy degree days. Water temperatures are perfect for redfish and sea trout. Large schools of hungry redfish in the three to twelve pound range gather in the shallows of the bays and waterways. They are very willing to eat live, cut, and a variety of artificial baits. Sightcasting to these schools is the most popular method of catching redfish this time of year.
Sea trout or speckled trout as they are also called, love the cool December mornings. Furious rod bending action can be expected this time of year can be expected from this great gamefish. These fish can be caught on live shrimp under a cork or casting and trolling artificial lures such as small soft plastics and some good suspension baits.
I have been catching good numbers of redfish especially on live bait at the lower tides. The sea trout have also been cooperative on live shrimp and my clients have taken many fish on artificials." - Capt. Chuck Griffin, Aqua Adventures LLC.
For booking information, call (843) 860-1664 or visit www.charlestonsportfishing.com.